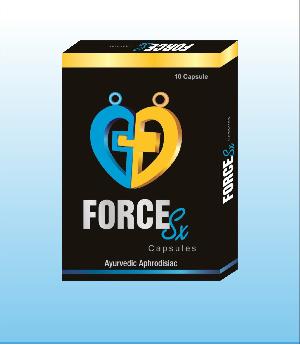 Indications : Force Sx capsule helps restore youthfulness in men feeling weak and tired. It helps restore stamina in the sexual organs, made weak due to excessive sex or masturbating. It is effective in sexual weakness, premature ejaculation and functional impotency. It increases quantity and quality of semen.

Ingredients : Swarn bhasm, Chandi bhasm, Kesar, Makardhwaj, Lawang, Lauh bhasm, Bang bhasm, Abhrak bhasm, Jaiphal, Gokhru, Akarkara, Tal Makhana, Shilajeet Shudh, Kharenti, Chakramard, Vidharikand, Ashwagandha, Safed musli, Shataver, Konch, Punarnava.

Dosage : 1-2 capsule twice A day with milk.