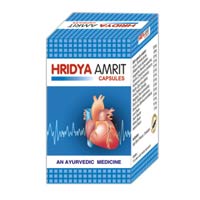 Hridya Amrit Capsule provides natural support to maintain normal healthy heart functions. It is useful for easing heart disease, high blood pressure, high cholesterol and circulatory conditions.

Ingredients : Arjuna, Shilajeet Shudh, Sarpgandha, Dalchini, Pushkarmool, Mulethi, Amla, Naagbala, Elaichi, Banslochan, Lauh Bhasm, Swarnmakshik Bhasm, Abhrak Bhasm, Vaikrant Bhasm.

Dosage : 1 capsule twice a day with milk or water.