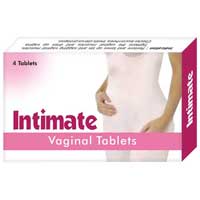 Intimate vaginal tablets are used to restore and tones up lax and sagging vaginal muscles. It tightens the vaginal muscles and dries up excess vaginal discharge, hence enhances sexual pleasure. It also Checks leucorrhoea and treats uterus prolapse.

Ingredients : Kesar, Chandan, Kamarkas, Supari, Kasturi dana, Ashok, Dhay, Harad, Lodh, Anaar, Bhringraj, Babool, Mochras, Mai, Unnab, Karpur, Deodar, Bhojpatra, Mayaphal, Dridhranga.

Dosage/ application : One tablet to be inserted into vagina at bed time daily or alternate day.